Manager & Technician Profiles
Mayme and Nonie -- Operations Manager
Mayme started working at Mountain View in 1997, after working as a vet assistant at a hospital in Yakima. She was promoted to Operations Manager of MVVH in 2002. Born and raised in Aberdeen, she moved to the Lacey/Olympia area and still loves living in this area. As a youngster, she always wanted to work with animals. She rescued everything from pigeons to deer. She worked with and showed horses and volunteered at Paws Adoption Center for many years. In her free time, she loves to read, listen to music, wine tasting, movies, and trying new things! Her pet family is a 3 legged torte cat named Nonie, a rescue she adopted when her front leg was amputated after being caught in a mole trap. Her mastiff Nemo, who passed away in 2009, was a blood donor for Mountain View. He donated for 14 blood transfusions over the years, helping save the lives of many cherished pets.
---
Technicians
Elizabeth aka 'Buffy' L.V.T

Buffy always wanted to work with animals. After the encouragement of a close friend to follow her dream, she made an appointment to tour Argosy University in Egan, Minnesota. She applied and was accepted into the Veterinary Technology program less than a month later, graduating in 2010. Her favorite parts of the job are drawing blood, placing IV catheters, and working with exotics and pocket pets. Buffy is our go-to person when our most delicate pets need anesthesia.
---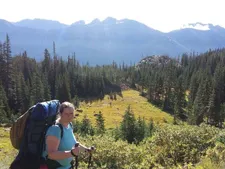 Beth L.V.T. (Head Technician)

Beth graduated from Pierce College's Veterinary Technology program in 2011. She knew she wanted to work in veterinary medicine since she was a young child, and after job shadowing at a few hospitals while in high school, her decision was made. Her favorite parts of being a technician are dentistry and radiology (taking x-rays).
---
Jacob L.V.T

Jacob started working at Mountain View as a Kennel Assistant in 2007. While he began studying for a degree in chemical engineering, he fell in love with veterinary medicine and decided to make it a career. He graduated from Pierce College in 2016. The best part of Jacob's day as a Veterinary Technician is working with pet owners, to teach them how to keep their pets healthy.
---
Cheryl Van Volkinburg L.V.T.
Cheryl attended Western Technical College in Sacramento, CA, receiving her degree in Veterinary Technology in 2005. When she was a child, a neighbor who owned show rabbits took Cheryl under his wing. Through caring for his rabbits, and also his cats, she learned how much she loved working with animals. To this day, her favorite part of being a technician is seeing kittens!
---